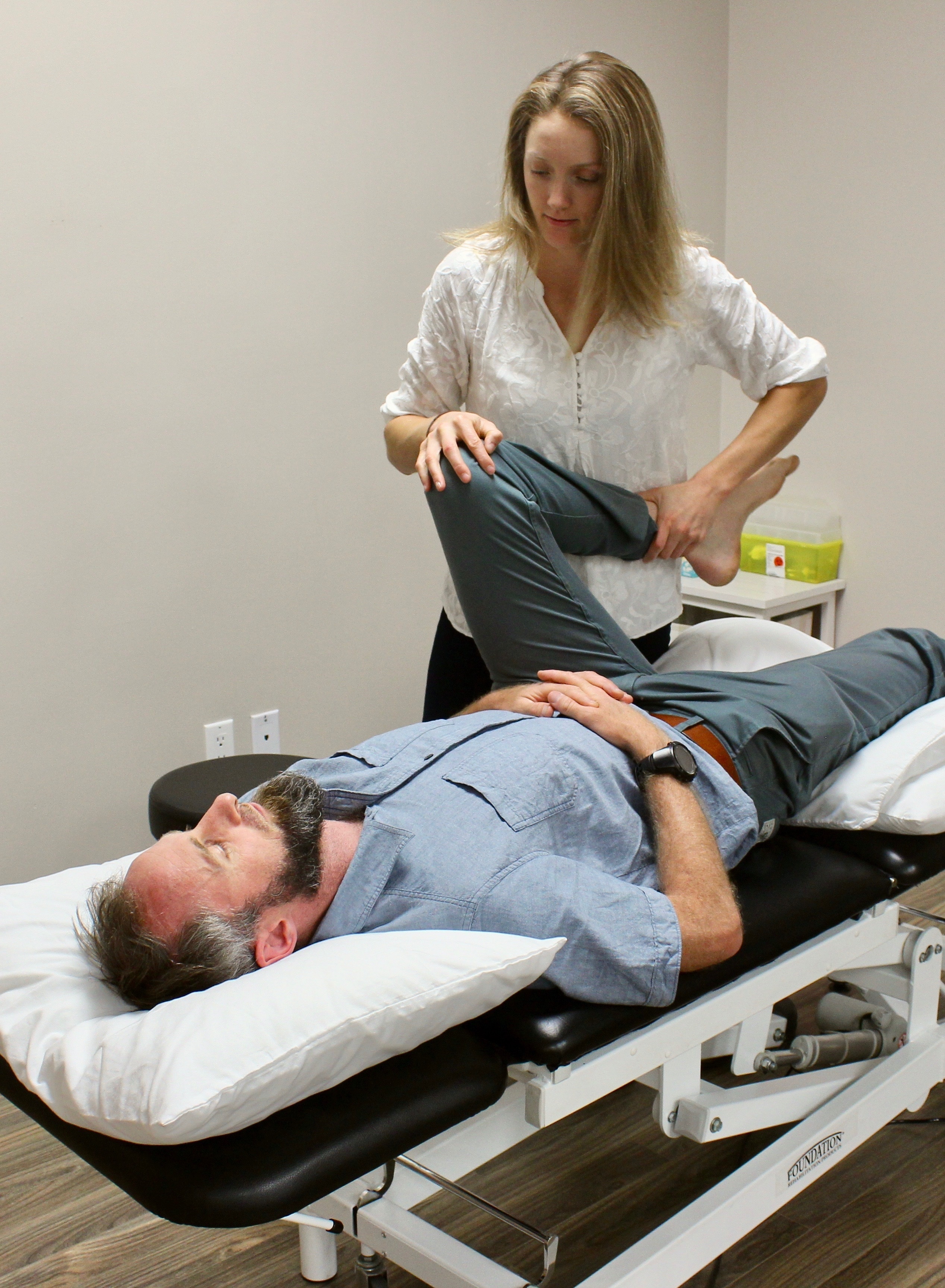 At Live Well Physiotherapy, it is our fundamental belief that optimal results are achieved through quality one-on-one care. This belief is reflected in all areas of our practice from booking longer treatment sessions, to comprehensive assessments and effective, hands-on treatments. We treat a wide variety of conditions so whether you have been in an accident, been injured on the playing field, just had surgery or are experiencing chronic pain, our therapists are committed to improving your quality of life! Although the majority of our clientele come to us for orthopedic concerns (anything affecting bones, muscles and/or joints), we also have physiotherapists that are trained to manage other conditions including pelvic health issues, vestibular disorders and concussion. We are also the proud sponsors and official physiotherapists for our local BCHL team, the Salmon Arm Silverbacks!

We have recently added counselling to the services provided at Live Well Physiotherapy. Experiencing a physical injury, chronic pain or a life altering injury like paralysis or amputation can have an overwhelming effect on mental well being. We believe that our patients will benefit from an approach that addresses both physical and mental health.
We work with private, ICBC, WorkSafe BC, MSP, RCMP, and Veteran's affairs patients. We can direct bill most insurance companies or will provide receipts for you to submit to your plan. You do not need a doctor's referral to see a physiotherapist unless it is a requirement of your insurance company.
Physiotherapy - Initial Assessment
During your first appointment, your physiotherapist will take a detailed history and listen to your concerns. They will then perform a comprehensive assessment to help determine the nature of your problem. Your physiotherapist will educate you on your condition and together, you will come up with treatment goals. A treatment plan will be discussed and you will also receive an initial treatment. Your first visit typically lasts 60 minutes. Please bring comfortable clothing that allows you to move freely and if possible, clothing that allows the therapist to easily assess the area like shorts or a tank top. But if you forget, don't worry - we have a selection of shorts and gowns for you to use. (Bookable online for some therapists)

Physiotherapy - Subsequent Treatment
On subsequent visits you will be booked for 30 minutes of one-on-one time with your physiotherapist. Sometimes sessions will go a bit longer if you are doing an exercise program or another modality so on average, patients are typically at the clinic for around 45 minutes. Our physiotherapists use a variety of treatment methods and your session may include ongoing assessment, education, manual therapy (soft tissue and joint mobilization), exercise instruction/prescription, acupuncture/dry-needling, and other modalities such as heat, ice, ultrasound, TENS, and IFC. The type of treatment will vary depending on the stage of injury and healing, current symptoms, and your treatment goals. Our ultimate goal is help you achieve optimal health and independence with a home exercise/management plan. (Bookable online for some therapists)
Acupuncture/Dry Needling
Some of the physiotherapists at Live Well Physiotherapy have additional certification in medical acupuncture and dry needling. Medical acupuncture combines the knowledge of acupuncture with western-learned anatomy, physiology and pathophysiology. It involves the stimulation of certain points on the body using fine needles to stimulate blood flow and tissue regeneration while decreasing pain and inflammation. Acupuncture can be used in conjunction with regular physiotherapy treatments. Dry needling can be used in the treatment of myofascial pain in multiple body areas. This technique uses acupuncture needles to pinpoint chronically tight muscles most commonly in the low back, buttocks, legs, shoulders and arms. Dry needling is often described as more comfortable than hands-on trigger point release.
Pelvic Health
Our pelvic health physiotherapists have extensive post-graduate training and experience in the area of pelvic health. Common conditions that they can assess and treat include incontinence, pelvic pain and dysfunction, prolapse and pre/post natal care. With our private treatment area and caring manner, you can feel confident that your pelvic health issues will be addressed in a professional, confidential, and comfortable environment.
Paediatric Physiotherapy
Our physiotherapist, Estera Hazlewood, has over 18 years experience working with children with conditions such as cerebral palsy, neuro-motor conditions such as Duchenne muscular dystrophy, Down Syndrome and gross motor delay. She is able to work with children and their families either at the clinic or in the child's home. Please call the clinic to discuss the most appropriate plan to help meet your child's needs.
Vestibular Rehabilitation
Vestibular rehabilitation can be effective in improving the symptoms of many vestibular (inner ear/balance) disorders. The most commonly treated disorder in our clinic is BPPV (Benign Paroxysmal Positional Vertigo). If you are experiencing the symptoms of BPPV including dizziness, nausea, vomiting, unsteadiness and the sensation that you or your surroundings are spinning or moving, then physiotherapy may help.
Kinesiology
Kinesiology is the science of human movement. A kinesiologist can help improve your health across a broad spectrum of function. If you are recovering from an injury, a Kinesiologist will conduct a comprehensive strength and range of motion assessment and help return you to your pre-injury quality of life by providing specific exercises and stretches aimed at reducing pain and improving function. Using tailored exercise prescription, a Kinesiologist can help you manage health issues such heart disease, diabetes, and chronic conditions such as fibromyalgia and arthritis. A Kinesiologist can also provide exercise programs for pre / post surgery, functional fitness for optimizing recreation & sport, and personal training & lifestyle coaching to support optimal health and fitness. Watch for kinesiology lead fitness classes coming soon to Live Well!

Counselling
Our Registered Social Worker provides counselling services in a confidential setting to work with individuals experiencing personal difficulties. Counselling can help people work through their challenges and facilitate appropriate changes to their life. Although our counsellor can provide assistance for a wide range of concerns, she has a special interest in helping people who are experiencing chronic, life altering, and life-threatening health issues. She also has an interest in counselling people with eating disorders.
Tele-rehabilitation

Our physiotherapists are able to connect with our patients via secure video transmission when an in-person visit is not possible. Tele-rehabilitation appointments may be appropriate if you live in an area where there is a shortage of appropriate physiotherapy care available or if you have transportation or mobility issues. During your video call, the physiotherapist can assess and educate you on your condition, provide advice on activity modification and self-management strategies, as well as prescribe or modify and exercise program. Our objective with tele-rehabilitation is to give you the tools to manage your condition independently. With that said, tele-rehabilitation has limitations compared to an in-person encounter such as the inability to perform hands-on examination, assessment and treatment. For that reason, your physiotherapist will help you determine if it is more appropriate for you to seek in-person care. Live Well Physiotherapy uses Jane software which has encrypted video transmission and secure data storage that complies with Privacy and Security regulations.